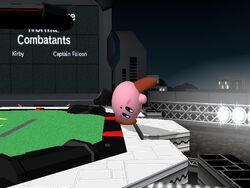 A Strong Up, also known as an Up tilt (abbreviated "u-tilt") is a tilt attack performed by any character by holding the control stick lightly upward and pressing A while on the ground. It is not always easy to pull off an Up Tilt quickly, as if you tilt too fast, you'll either jump or do an up smash instead. Turning off Tap Jump can help avoid the former problem, or you can jump and hold up on the control stick. More often than not, up-tilts are used for juggling, as they usually lack the knockback to disturb low damage combos outside of a few exceptions such as Ganondorf and Captain Falcon.
Notable up tilts include
Gallery
Ad blocker interference detected!
Wikia is a free-to-use site that makes money from advertising. We have a modified experience for viewers using ad blockers

Wikia is not accessible if you've made further modifications. Remove the custom ad blocker rule(s) and the page will load as expected.