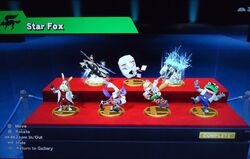 Trophy boxes are a new feature in Super Smash Bros. for Wii U. They are boxes of differently categorized trophies. They can be accessed by visiting the Trophy Gallery, then pressing X while viewing a trophy. There are 92 boxes in total, although there are 87 trophies that do not belong to any box. Each trophy box will be marked with a "complete" tag once all trophies in that box are acquired.
Trophy boxes are only featured in the Wii U version of the game. They are not available in Super Smash Bros. for 3DS.
List of trophy boxes
1. Brawler
2. Swordfighter
3. Gunner
4. Items and Rewards
5. Road to Master Hand
6. Mario Bros.
7. Super Mario Bros.
8. Bowser's Minions
9. Super Mario Bros. 2 & 3
10. Super Mario Kart
11. Super Mario Galaxy
12. Super Mario Galaxy 2
13. Paper Mario
14. Koopalings
15. Yoshi's Island
16. New Super Mario Bros.
17. Donkey Kong and His Friends
18. Animal Friends and Items
19. Donkey Kong Country Returns
20. Tropical Freeze
21. Wind Waker
22. Skyward Sword
23. Skyward Sword Characters
24. Twilight Princess
25. Ocarina of Time & Majora's Mask
26. The Beginning of Metroid
27. Other M
28. The Metroid Threat
29. The Other M Threat
30. Copy Kirby!
31. Copy Even More Kirby!
32. The Beginning of Kirby
33. Residents of Dream Land
34. Kirby's Adventure
35. Star Wolf
36. Star Fox: Assault
37. Star Fox
38. The Beginning of Pokémon
39. Pokémon
40. Kanto Region
41. Pokémon Gold & Pokémon Silver
42. Legend of Pokémon Gold & Pokémon Silver
43. Pokémon Ruby & Pokémon Sapphire
44. Legend of Pokémon Ruby & Pokémon Sapphire
45. Pokémon Diamond & Pokémon Pearl
46. Legend of Pokémon Diamond & Pokémon Pearl
47. Pokémon Black & Pokémon White
48. Legend of Pokémon Black & Pokémon White
49. The Beginning of Pokémon X & Pokémon Y
50. Pokémon X & Pokémon Y
51. Mega Evolution
52. F-Zero
53. F-Zero X
54. Mother Series
55. Heroes of the Emblem
56. Game & Watch
57. Sacred Treasures, Items, and Miracles
58. Kid Icarus: Uprising
59. WarioWare, Inc.
60. Pikmin
61. Distant Planet & Indigenous Creatures
62. Space Explorer
63. The Beginning of Animal Crossing 1
64. The Beginning of Animal Crossing 2
65. Animal Crossing: Wild World
66. Animal Crossing: City Folk
67. Animal Crossing: New Leaf
68. Wii Fit
69. Wii Fit Plus/U
70. Punch-Out!!
71. Punch-Out!!
72. Shulk and His Companions
73. Mechonis
74. Light Gun Series
75. Memorabilia
76. Female Fighters
77. NES
78. SNES
79. Wii & Wii U
80. Wii
81. Nintendo DS and Nintendo 3DS
82. The Wonderful 101
83. Sonic & Friends
84. Dr. Eggman's Ambitions
85. Mega Man and Friends
86. Mega Man
87. Mega Man Heroes
88. PAC-MAN
89. SUPER PAC-MAN & PAC-LAND
90. Final Smashes 1
91. Final Smashes 2
92. Final Smashes 3
Gallery