A Starter Character is a character who is already available for play immediately after turning the game on for the first time; the player does not have to unlock, challenge or download that character in order for him or her to be selectable (as one must do to select unlockable characters and downloadable characters).
List of Starter Characters
The following characters appear as starter characters: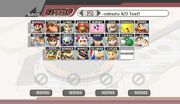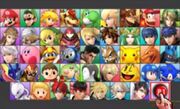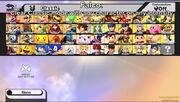 * Characters that are only starter characters in the Wii U version
** While Mii Fighters don't appear on the roster at the start of the game, the ability to create them is available at the start.
Trivia
See Also
Ad blocker interference detected!
Wikia is a free-to-use site that makes money from advertising. We have a modified experience for viewers using ad blockers

Wikia is not accessible if you've made further modifications. Remove the custom ad blocker rule(s) and the page will load as expected.