Featured Article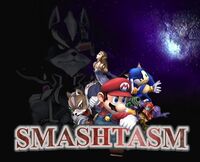 Smashtasm is a Super Smash Bros. Melee and Super Smash Bros. Brawl machinima series created by Shippiddge. It takes place in a fictional world, in which players of Smash Bros. battle against each other online in a server-based system. The first three episodes are filmed using Camera Mode and the others are filmed using Action Replay. It was the first Smash Bros. machinima to make use of actual voice actors. (More...)
Helping Out
To write a new article, just enter the article title in the box below.
Not sure where to start?
If you are new to wikis, check out the tutorial.
News
June 14, 2015

Roy and Ryu are confirmed and released as DLC characters for Super Smash Bros. for Wii U and 3DS alongside Lucas. Additionally, Miiverse (stage) is released and available for free, as well paid-DLC for Suzaku Castle, Dream Land from the original Super Smash Bros., and many Mii Fighter outfits.
June 14, 2015

Two other states from the original Super Smash Bros., Hyrule Castle and Peach's Castle, ate revealed as DLC stages for an unknown point in the future. A Tourney mode is also revealed, as well as a function allowing Replays to be shared on YouTube.
June 14, 2015

Amiibo for R.O.B., Duck Hunt, Mr. Game & Watch, Mii Fighters, and Falco are shown and given release dates. It is confirmed that Amiibo for all DLC characters will be developed.
May 29, 2015

The fourth wave of Amiibo is released.
Languages
English
·
Español
·
Deutsch
·
Request a wiki in another language