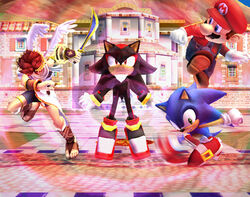 Slow motion is a special condition that decreases the movement of the characters and gameplay. The most notable cause of slow movement is the Timer. When a character is in a state of slow movement, their speed, attacks, and falling speed will be reduced drastically. When the slow movement condition is finished, their speed will return back to normal. There is also an option in Training Mode that allows the player to reduce the speed of the gameplay. Likewise, there is an option in Versus Mode that allows for slow gameplay.
Causes of Slow motion
Ad blocker interference detected!
Wikia is a free-to-use site that makes money from advertising. We have a modified experience for viewers using ad blockers

Wikia is not accessible if you've made further modifications. Remove the custom ad blocker rule(s) and the page will load as expected.