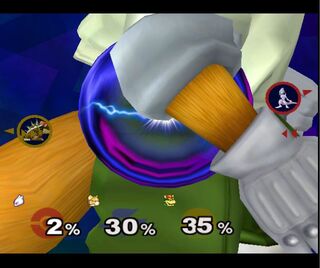 The
shadow glitch
is a glitch exclusive to
version
1.0 of
Super Smash Bros. Melee
. It was discovered by
INF8
,
Veg
, and
Simna ibn Sind
; it allows the
Shadow Balls
in
Mewtwo
's forward throw to be caught as items. This requires three characters: one Mewtwo, one character to catch the shadowball, and one other character to be thrown.
Instructions
Have Mewtwo grab and forward throw another player (this works well with Bowser).
Have the third character jump and air dodge into the resulting stream of Shadow Balls and press the Z button to catch one.
Effects
If the Shadow Ball is thrown, it will freeze the game unless it is quickly recaught.
Sources
Ad blocker interference detected!
Wikia is a free-to-use site that makes money from advertising. We have a modified experience for viewers using ad blockers

Wikia is not accessible if you've made further modifications. Remove the custom ad blocker rule(s) and the page will load as expected.