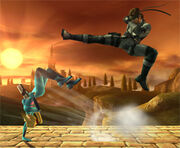 For other uses, see Roll (disambiguation).
Rolling is a maneuver that moves the character left or right and renders them invincible for a short period of time. It is performed by pressing the control stick left or right while holding a shield button.
Characters experience invincibility frames while rolling, though the amount, duration and timing of these frames varies from character to character. It's an advantage to have quick and long rolls because if it's slow and short, the roll is more predictable and the character is more vulnerable when in a falled animation to attacks and some KO moves.
A character cannot roll off the stage if a player performs this move near an edge, instead they will perform the remainder of the rolling animation in a stationary location right next to the ledge.
Rolling vs. Wavedashing (SSBM)
Many casual players believe that rolling and wavedashing play the same role and that the wavedash is just a superior version of the roll. This misconception exists because professional players wavedash in most situations in which casual players would roll (or vice versa). In fact, rolling and wavedashing play very different roles. A roll is used when the player needs both horizontal ground movement and invincibility frames at the same time (example: getting past an opponent who is using a close range attack). The wavedash is most commonly used when quick horizontal movement is needed (and invincibility frames are not needed) such as dodging an attack (rather than passing through it) or when a standing attack is needed with horizontal movement. If the wavedash did not exist, upper level Smashers would replace the wavedash with a dash than the roll in most situations.
Stale Dodging
In Super Smash Bros. Ultimate, a mechanic was added that made overuse of rolls result in a decrease in speed and intangibility frames for rolls. The diminishing effects would stack up to six times. This was added in to force players to use rolls more strategically and to punish players that used rolls superfluously.
Rolling Frames (SSBB)
These lists show the invincibility and the total lag frames of the rolls, but not the distance travelled or the size of the character while rolling.
The numbers before the slash (/) are the invincibility frames of the roll, and the number after the slash is the total number of frames taken to perform the roll. For example, Meta Knight's forward roll takes 23 frames to perform, but he is only invincible between frames 5 and 12.
Forward Rolls
5-12 / 23
4-19 / 27
4-17 / 27
4-15 / 27
4-19 / 29
4-20 / 31
4-19 / 31
3-19 / 32
4-19 / 32
4-19 / 33
4-21 / 34
4-19 / 34
4-19 / 35
4-17 / 35
4-21 / 37
4-19 / 37
5-20 / 39
4-23 / 44
Backward Rolls
4-19 / 27
4-19 / 29
4-20 / 31
4-19 / 31
5-20 / 31
4-19 / 32
4-17 / 32
4-19 / 33
4-12 / 33
4-21 / 34
4-23 / 35
4-19 / 35
4-19 / 36
4-21 / 37
4-19 / 37
5-20 / 39
4-23 / 44