For the reverse effect, see Vacuum.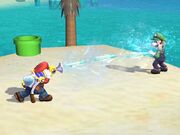 Push is a common side effect in Brawl of many attacks, such as Water Gun, that causes characters, as well as certain items, to be gently pushed away from the source of pushing. Most kinds of Push work on both airborne and standing opponents. Characters hanging from edges are not affected by this. It is usually much more difficult to fight Push than vacuum.
From a physics standpoint, Push is simply knockback without flinching or hitstun. If two characters overlap each other, push will affect either character that is standing still. In Melee, if this doesn't occur in a match, the friendly foe bonus is awarded.
Sources of Push
Fighters
Pokémon
Others
Note: Isaac's attack, "Move", actually has set knockback, not Push.

This Super Smash Bros. related article or section is a stub. You can help Smashpedia by expanding it.