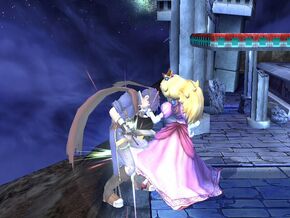 A Pummel is the attack usable while an opponent remains trapped in the player's grab. Any character can pummel by pressing the attack or grab buttons after a successful grab. Since that character will already be holding the other using their arms, most pummels are knee jabs or head butts, which tend to cause around 2-3% damage. Pummeling is primarily used to rack up extra damage before a throw. The higher an opponent's damage meter, the longer one can pummel before they're able to break free from the grab. If not executed swiftly, an adept fighter may escape before even a single blow is landed. Pummeling was first introduced in Super Smash Bros. Melee. It can be performed much more quickly in Super Smash Bros. Brawl. If the opponent is pummeled, the throw will be slightly weakened, knockback wise.
SSBM Pummeling actions
SSBB Pummeling actions
SSBWU/3DS Pummeling actions
Ad blocker interference detected!
Wikia is a free-to-use site that makes money from advertising. We have a modified experience for viewers using ad blockers

Wikia is not accessible if you've made further modifications. Remove the custom ad blocker rule(s) and the page will load as expected.