Pikmin Order
Talk

2
1,716pages on
this wiki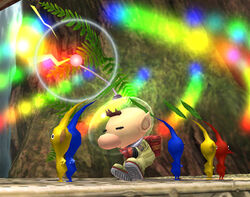 Pikmin Order is Pikmin & Olimar's Down Special Move. Captain Olimar calls back any Pikmin that have been separated from him. This is among Olimar's most useful moves for a variety of reasons:
It is primarily used to recall Pikmin in danger, which is very beneficial to Olimar (see Pikmin Pluck).
A good Olimar player is constantly throwing his Pikmin, yet has them by his side at all times. How is this? Simple. The Pikmin Order. Throw all your Pikmin, pluck to replace any casualties and use this move twice in quick succession (you can do this more quickly in midair) - your Pikmin will instantly appear by your side. One moment they're sailing off the edge of the screen or trapped somewhere, and the next - poof! They're right there. This move makes it very difficult for Olimar to ever be bereft of his buddies.
In fact, some use this move so often that its whistle is heard almost as much as the cries of thrown Pikmin (and dying Pikmin). Most Olimar players are in the habit of constantly pressing B whenever they land, to replenish any Pikmin that might have died (whether any have died or not, it builds a beneficial habit that cultivates skills necessary for performing unpunishable plucking). (Some call this "Reflex Plucking.") Several Olimar players have developed a habit of pressing down-B twice quickly in the air after throwing all Pikmin. Why? Simple. It is a better way to maintain a constant stream of thrown Pikmin, as otherwise the opponent can simply dodge the thrown Pikmin, forcing Olimar to wait while his Pikmin walk back to him. If the opponent killed the Pikmin, Olimar would be able to pluck more and continue the stream. Thus, the opponent must simply dodge the Pikmin to stop the stream temporarily. Thanks to Pikmin order, however, that is impossible; now Olimar's Pikmin do not need to die for him to have more on hand after throwing them all at the opponent. He must simply use Pikmin order twice in quick succession (it can be performed twice quickly in the air better than on the ground). Some Olimar players are so good that they can recall a thrown Pikmin that misses its target before it even hits the ground and throw it again before landing themselves. Needless to say, thanks to a combination of instant Pikmin Order (for the Pikmin that live) and reflex plucking (to replace the Pikmin that die), Olimar can maintain a literally infinite stream of Pikmin assaulting his opponent.
The move is also useful for getting a Pikmin off your opponent right before your opponent would kill it. Not that you can't replace it, but if you're running low on that color or aren't in a great position to pluck, it can be yet another benefit to have that Pikmin by your side (essentially functioning as a "midair pluck").
Instant Pikmin recall isn't the only use of this move, however. It also orders Olimar's Pikmin by color. The first time the move is used, the Pikmin are ordered as such: Red, Yellow, Blue, White, Purple. The next time the move is used, they will be ordered: Yellow, Blue, White, Purple, Red. This pattern continues throughout the match, the first color from the last Whistle being moved to the end in the next Whistle.
Even without Pikmin, this move is good. This move has a few Super Armor frames. It is a very fast move, which is good because Olimar may need to reorder Pikmin on the fly to maximize his strength. It is commonly called the Whistle because of the sound it makes when Olimar uses it. The move is useful in its Super Armor frames as well, and an experienced player can defend against otherwise-unshieldable and undodgeable Final Smashes with well-timed uses of this move. It will often confuse a human opponent for some time if they hit Olimar with a powerful attack when using this move, only to see him damaged but in place, ready to counterattack.
Furthermore, when an opponent hits Olimar with a powerful move during those super-armor frames, it will actually cause slight ending lag on the part of the opponent, giving Olimar the chance to retaliate. Using Olimar's Whistle to punish an opponent's moves is a valid tactic employed by Olimar experts.
Thus, we see that Pikmin Order is as beneficial to Olimar in Brawl as it was in the game he came from.
Origin
In Pikmin, this ability was essential to getting the Pikmin to follow you when they got lost or became idle. The whistle is aimed at an area and the Pikmin in that area stop what they're doing (attacking, harvesting, carrying, etc.) and snap to attention, following the player once more. It's used get them away from threats or call on them when you need them. Repeatedly using the whistle saves Pikmin from water, fire and poison. Although it is impossible to save Pikmin who have been electrocuted. It was more important in Pikmin than it is in Brawl, as it was his most-used function, aside from throwing and plucking Pikmin. Olimar was also able to separate Pikmin into groups of color by pressing the X button. Although doing this in Pikmin did not produce the same circular animation that is seen in Brawl, it did produce a muffled whistle noise.
In Pikmin 2, the whistle now has a visible area-of-effect given by the rainbow-coloured circle similar to the one seen in Brawl. Ironically, Pikmin Order is another given function available in Pikmin 2 except it is used to promote action rather than return to the leader.