Peahats are enemies from The Legend of Zelda series.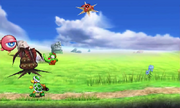 Peahats appear as enemies in Smash Run. They will use their propellers to attack players and will shoot out smaller Peahat Larva, which can also attack players.
Trophy Description
Peahat
These flying plants have been in Legend of Zelda games since the very beginning. If they sense a fighter nearby, they'll spawn Peahat Larvae that won't give up the chase. Peahats like to spin rapidly at nearby enemies. If you can defeat one, the rewards will be worth the trouble you went through.
Ad blocker interference detected!
Wikia is a free-to-use site that makes money from advertising. We have a modified experience for viewers using ad blockers

Wikia is not accessible if you've made further modifications. Remove the custom ad blocker rule(s) and the page will load as expected.