Metal Gear
(メタルギア,
Metaru Gia
)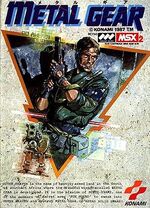 (commonly abbreviated to
MG
) is a game designed by
Hideo Kojima
, developed and published by
Konami
for the MSX on July 12, 1987. It was ported to the Nintendo Entertainment System (NES) on December 22, 1987.
Solid Snake, the main character of the Metal Gear series, premiered in this game and is a playable fighter in Super Smash Bros. Brawl. Theme of Tara originates from this game as well.
Ad blocker interference detected!
Wikia is a free-to-use site that makes money from advertising. We have a modified experience for viewers using ad blockers

Wikia is not accessible if you've made further modifications. Remove the custom ad blocker rule(s) and the page will load as expected.