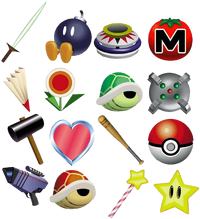 For the CPU Mode, see ITEM (CPU Mode).
An item is an object that appears on stage that characters can use or throw. Items are a large part of the gameplay of the Super Smash Bros. series. They may appear at any time in designated spawning areas during a match.
List of items
The items that appear during regular gameplay and are listed under Item Switch may be broken down into several different types of items based on how they are used and their effects.
Container items
Container items can be broken if thrown or hit and releases other items when broken. Opponents hit by thrown container items become damaged.
Note: Sandbag is not considered one of the other Containers in Brawl's Item Switch and thus has a separate switch. In addition, it has no chance of explosion, and cannot be carried, but still releases items.
Battering items
Battering items change each character's Neutral attack, Forward tilt, Dash attack, and Forward smash into a damaging item swipe. They can be thrown, tilt-thrown, or smash-thrown with Z and the C-stick as well and may also have certain special effects.
Shooting Items
Shooting items are items that can fire projectiles a certain distance.
In Super Smash Bros. Brawl, characters are able to move while shooting. Also, the C-Stick can be used to fire while moving in the direction it is tilted, or throw the shooting item if it is out of ammo.
Projectile Items
Projectile items thrown at enemies, and are often explosives. They may stick to characters or surfaces, or even hang midair, but are always used by simply pressing A.
Performance Items
These items take effect the instant a character picks them up and increase or change his or her natural abilities. They wear off after several seconds, depending on the item. Some affect the user, and others work on opponents.
Recovery Items
Recovery items will reduce the damage of the character who picks them up. In Super Smash Bros., a character may not pick up a healing item while holding another item; this was changed in Super Smash Bros. Melee.
Assist Trophies
Assist Trophies (called "assist figures" in Japan) are very much like Poke Balls (called "monster balls" in Japan) in that they summon random characters. However, instead of throwing them, they are automatically activated upon pickup. They only activate when standing; a character will continue to hold an assist trophy and he/she can even be knocked away if an opponent hits him before it takes effect.
Collectibles
Collectibles are items that can only be picked up in the course of game play. They do not cause any direct or immediate change to a match. Stickers can be used during The Subspace Emissary to enhance a character's abilities. CDs add to the list of songs playable during matches. Trophies (called "figures" in Japan) give some background information about various elements in the game.
Adventure Mode: The Subspace Emissary
These items are only available in the Adventure Mode of Super Smash Bros. Brawl. Trophy stands (called "smash plates" in Japan) are thrown at an enemy to transform it into a trophy ("figure" in Japan) after greatly weakening it.
Other
Other items can be produced only by certain characters, stages, or other items. These include:
Enemies
The following enemies appear in Super Smash Bros. Melee and will sometimes come out of containers. Some of them also appear in Super Smash Bros. Brawl, but they do not come out of containers.
Footnotes
1: Appears in Super Smash Bros., but not as an item.
2: Differs significantly in Super Smash Bros. and Super Smash Bros. Melee/Super Smash Bros. Brawl.
3: Can function both as a gun (by inputting forward tilt or forward smash) or a clobbering item (by inputting neutral A)
4: Unlike other Battering Items, these only perform one type of attack constantly and cannot be thrown.
5: Was held and throwable in Super Smash Bros. Melee, but not in Super Smash Bros. Brawl.
6: Item is thrown, despite not being in projectile category.
º: Only appears as a glitch.
See also