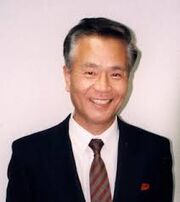 Gunpei Yokoi, also seen as Gumpei Yokoi (横井 軍平, Yokoi Gunpei) (September 10, 1941–October 4, 1997), was a long-time Nintendo employee. He and his R&D department were responsible for many Nintendo games such as Kid Icarus and Metroid.
He was also the creator of the Game and Watch franchise, and, when he died in 1997 due to a car accident, Masahiro Sakurai decided to include the main character of the series as a playable character and tribute to Yokoi's work in Super Smash Bros. Melee.
Ad blocker interference detected!
Wikia is a free-to-use site that makes money from advertising. We have a modified experience for viewers using ad blockers

Wikia is not accessible if you've made further modifications. Remove the custom ad blocker rule(s) and the page will load as expected.