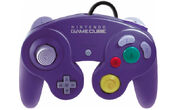 The Nintendo GameCube controller is the controller for the GameCube. It is similar to the Nintendo 64 controller, but without the middle grip. The Wii is able to utilize this for GameCube games, Virtual Console games, and select Wii games (including Super Smash Bros. Brawl) and an adapter for the Wii U to play Super Smash Bros.. It is possible to play all four Super Smash Bros. games with the Gamecube controller.
Certain third-party GameCube controllers (ones not designed or made by Nintendo, usually) are not recognized by Brawl.
The Gamecube Controller is largely the Melee veteran's favorite for Brawl, and has the advantage of C-stick smashes (shares this with the classic controller's R-stick)
Ad blocker interference detected!
Wikia is a free-to-use site that makes money from advertising. We have a modified experience for viewers using ad blockers

Wikia is not accessible if you've made further modifications. Remove the custom ad blocker rule(s) and the page will load as expected.