The Falcon Flyer is the ship in which Captain Falcon flies in to complete his bounty hunter missions. Interestingly, both in F-Zero and Super Smash Bros. Melee., he never uses it. In fact, its only video game appearance is in the Super Smash Bros. series and first appeared in Super Smash Bros. Melee. It was shown in the comic that came along with the original F-Zero though. In Super Smash Bros. Melee, it appears as both a trophy and on the Big Blue stage.
The Falcon Flyer appears in Brawl's Subspace Emissary, summoned by Captain Falcon to escape from the Subspace Bomb Factory that was about to explode, then he, Samus, Pikachu, Donkey Kong, Diddy Kong, Olimar, and R.O.B. face Meta-Ridley on top of the Falcon Flyer. A short time after that, the Falcon Flyer (piloted by Captain Falcon), along with the Halberd, lands where the rest of the heroes are, and helps in the assault to stop the Subspace Gunship. The Falcon Flyer has two rear engines on Big Blue, while it has three in its trophy.
In Super Smash Bros. Brawl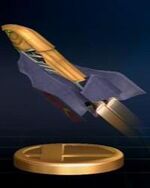 Trophy Description
Captain Falcon's speedy, midsized galactic cruiser, equipped with an onboard computer. Captain Falcon uses the Falcon Flyer mainly to track down criminals when he's plying his trade as a bounty hunter. Of course, it also comes in handy for transporting and maintaining the Blue Falcon. The Falcon Flyer is an exceedingly reliable partner.

Super Smash Bros. Brawl, 2004
See also: List of SSBB trophies (F-Zero series)
In Super Smash Bros. for Wii U/3DS
Trophy Description
The treasured ship of the bounty hunter Captain Falcon. Don't get this confused with the Blue Falcon, his F-Zero machine. The nose looks like a falcon, reflecting Captain Falcon's dauntless pursuit of his prey. Beware, bounty heads! Captain Falcon will track you down!
NGC - Super Smash Bros. Melee (12/2001)
Wii - Super Smash Bros. Brawl (03/2008)
Ad blocker interference detected!
Wikia is a free-to-use site that makes money from advertising. We have a modified experience for viewers using ad blockers

Wikia is not accessible if you've made further modifications. Remove the custom ad blocker rule(s) and the page will load as expected.