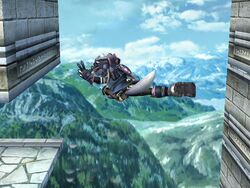 The back aerial (abbreviated as "bair", "BAir", or "ABA") is an aerial attack that is performed in midair by pressing the A Button, and tilting the control stick in the direction opposite to which the character is facing. Its official term varies between titles, where it is known as a "Back Midair Attack" in Super Smash Bros. Melee, and a "Back Air Attack" in Brawl. The majority of these attacks are kicks.
In general, back air in SSB64 are slow but with good range and good knockback. They are all 1 hit moves outside of Link
List of Back Midair Attacks in Super Smash Bros. Melee
List of Bairs inSSBB
Notable characters' back aerials
Ad blocker interference detected!
Wikia is a free-to-use site that makes money from advertising. We have a modified experience for viewers using ad blockers

Wikia is not accessible if you've made further modifications. Remove the custom ad blocker rule(s) and the page will load as expected.