Assist Trophy
Talk

25
2,253pages on
this wiki
An Assist Trophy is an item that, when grabbed, summons a character out of twenty seven choices of various origin to quickly aid the holder, though there are currently three third party Assist Trophies, not to mention some assistants get in the way more than they help. Assist Trophies work nearly identical to Poké Balls. However, no Pokémon come out of them, and once an Assist Trophy is grabbed, it is automatically activated (though this is not very convenient), assuming the holder is standing on the ground, and not in a jump, attack, or hitstun. Some assist trophies must be unlocked in order to be used, such as Isaac from Golden Sun. Unlike the Poké Ball, this can be eaten.
Only one Assist Trophy (and the character it releases) can be in a match at once. The next Assist Trophy will not appear until the data for the character it will release is fully loaded.
List of Assist Trophies in Super Smash Bros. Brawl
In addition to the above characters, scrapped Assist Trophy data for Ridley was found when hacking Super Smash Bros. Brawl. Attendants at the 2007 Whobby Game Festival claimed to have seen Assist Trophies of Duster, Muddy Mole, and Rosalina, but this was proven to be fabricated upon the release of the game.
List of Assist Trophies in Super Smash Bros. (Wii U and 3DS)
Sakurai has stated that some Assist Trophies will be exclusive to certain versions.
Trophy Description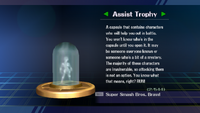 Super Smash Bros. Brawl
A capsule that contains characters who will help you out in battle. You won't know who's in the capsule until you open it. It may be someone everyone knows or someone who's a bit of a mystery. The majority of these characters are invulnerable, so attacking them is not an option. You know what that means, right? RUN!
Super Smash Bros. for 3DS/WiiU
This strange capsule contains a guest character who will aid you in your battle. Who will emerge? Grab it to find out! Maybe it'll be a famous character from a popular game, or perhaps a goofy sidekick here to prove his or her worth. Too bad you can't choose who shows up or control them...
Gallery
Trivia
Hammer Bro. is the only Assist Trophy character to appear as an enemy in the Subspace Emissary.
In Classic Mode, if the character who summoned an assist trophy dies, the assist trophy goes away. However, this does not happen in All-Star mode.
In the Gamecube preview issue of Electronic Gaming Monthly, the Smash Bros Melee article comments that Nintendo originally tried to implement Assist Trophies in Melee. The only trophy concept they gave details on was one that would release the ducks from Duck Hunt to fly around the stage and interfere with the fighters.
External Links